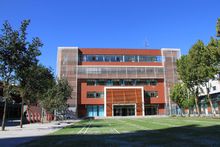 Beijing No. 50 Middle School was founded in 1953, is the Beijing Municipal Demonstration Middle School.
Beijing No. 50 Middle School foreign exchange more, and the United States has been the free high school in Virginia, Japan's freedom of the establishment of friendly relations between the school.
Campus three quarters of flowers, four seasons evergreen, fruitful, birds chirp, elegant environment, the school three teaching buildings, two comprehensive building, student cafeteria, student apartments and 10,000 square meters of closed artificial turf stadium scattered layout, center Garden, whirling Guhuai, multi-level green wall reveals the school's profound cultural background.